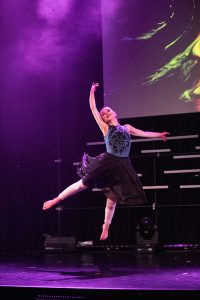 The Shine Student Showcase is a wonderful opportunity for dancers to present their original choreography, dance technique and performance skills to family and friends with the opportunity to win awards!
Our 2023 Shine Student Showcase will take place at the Rialto Theater in downtown Loveland on Saturday, March 11th at 4:00pm.  Immediately following will be a free open house art show and musical recital at Lighthouse Dance.
Student Show Case Audition Guidelines
1.) All students wishing to participate in the Shine Student Showcase must audition. Auditions will take place at Lighthouse Dance on Wednesday, March 1st.
2.) Entry Cost: $15 per person per dance auditioned with a maximum of 3 dances auditioned per person.
3.) All dancers auditioning must be enrolled students of Lighthouse Dance.
4.) Sign up at the front desk by Saturday, February, 28th.
Dance Guidelines:
Duet and Group Dances
Ages: 7 and up
People Allowed: 2-7
Song Length: 1:00-2:00
Solo Auditions
Levels 2 and higher
Song Length: 1:00-1:30
Choreography
We want to see creative choreography and confidence. Dances should be unified, clean, and demonstrate a variety of technique and dance skills. Facial expressions and thorough knowledge of the dance is important.
Music
Music should be uplifting, age appropriate, reflect Lighthouse Dance's vision and mission and be free from any explicit content. If you have any questions about music, please ask a Lighthouse teacher. Please digitally send written lyrics and your cut music to Catherine Bennett at cathy.r.bennett@gmail.com at least 24 hours prior to your audition date. See dance guidelines for appropriate dance lengths.  You are responsible for cutting your own music, however if you need us to cut your music, you may request this service for an added $20 fee.
Costumes + Props:
All dancers must audition in their full costume and with any props that will be used for the performance. Costumes must be thought out before the audition. Costumes should be modest, covering the chest, tummy, and booty. No shorts unless basketball, knee length shorts for hip-hop. Please have hair done in the same style as it will be for the performance.
Auditions + Results
After signing up for auditions, you will be able to choose a time slot(s) online. Be sure to arrive on time for your audition time. Dancers will be called into Studio C, perform their routine at least once for a panel of judges. Judges are looking for the following things:
Choreography creativity
Choreography with style of music
Emotions and expressions
Synchronization of participating dancers
Knowledge of the dance
Technique performed
Costume tidiness and style
Entertainment value of the dance
Confidence and respect of performers
Judges will take notes and give feedback to help the dancers become performance ready.
Audition results and show order will emailed out within 48 hours after auditions.
*Judges will be choosing award winners at the auditions, so be well prepared for your audition!  
What to Bring to Auditions: 
All participating dancers
A way to play your music on an iPad, phone or other MP3 device (we will provide your music from the one emailed, yours will be used as a backup). NO CD's please
Props, costumes, and shoes
Audition forms (One per dance) if not turned in or emailed in advanced
Awards will be given in the following categories:
"Best Solo", "Best Duet, and "Best Group Performance" in three ages categories, Junior (ages 7-12), Senior (ages 13 and up) and Combined (for ages ranging from 7-adult). Awards will also be given for overall "Best Choreography", "Best Costume", and  "Creativity" award. The "Time to Shine" award will go to the best overall performance.