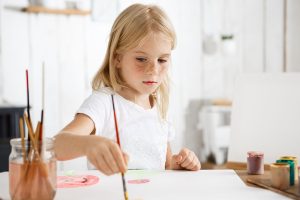 What: This is an opportunity for students to have their art displayed at Lighthouse Dance during a special showcase and open house (to be held in conjunction with the dance showcase and music recital. Admission into this open house will be free). Art will be judged by artists that are a part of Lighthouse Dance, and awards will be given. Awards will be given in the following categories: under 12 years old, ages 13+.
Open House: March 11th 6PM-8PM
Entry Cost: $15
Rules:
1) One entry per student. Entry must be created by an active student at Lighthouse Dance. Any age from 2 to adult.
2) Judging Criteria: Adherence to rules, artistic design, excellence, visual appeal, creativity. The theme is totally open, but if you need some inspiration consider our showcase theme which is "Shine", or this year's recital theme which is "Created".
3) Required entry form: The Entry Form must be filled out and turned in with the finished artwork. The entry form will be DISPLAYED next to the artwork.
4) Required media base: The artwork must be contained on a single piece of flat material (no sculptures). Allowed materials are: Paper (any type), posterboard, or canvas.
5) Required size range: Minimum 8″x10″, maximum 36″x48″. Artwork can be oriented vertically or horizontally. (For example, a standard 8.5″x11″ sheet of paper would be fine)
6) Allowed media: Any media or mixture of media so long as it's dry when it is entered. For example (but not limited to) acrylic paint, oil paint, watercolor, ink, colored pencil, crayon, marker, pastel, printed original digital media, printed original photography.
7) Display options: Keep in mind the three allowed media bases are paper, posterboard, or canvas. The artwork can optionally be mounted, matted, or framed. If the artwork is unframed/unmounted, we will simply tape or tack it to the wall (this may cause minimal damage to the artwork). If it is framed or mounted in a way that can be hung, we will hang it on the wall. If you want to provide an easel to be used with your artwork, we will display it on your easel. Such options may help protect artwork and/or enhance its display, but it will not affect judging criteria.
8) Submission: Artwork must be dropped off at Lighthouse with the entry form and payment between March 3rd-9th. We'll leave the artwork up during the following week, so students can enjoy seeing it. Artwork can be picked up during business hours anytime after that (for example at your dance class).